The global PC market has been on a downward spiral, with the third quarter of 2023 marking the eighth consecutive quarter of decline. According to preliminary results reported by Gartner, Inc., worldwide PC shipments totaled 64.3 million units, a 9% decrease compared to the third quarter of 2022. However, Gartner's analysts are optimistic about the market's future, projecting a recovery starting in the fourth quarter of 2023.
The Current State of the PC Market
Mikako Kitagawa, Director Analyst at Gartner, stated, "There is evidence that the market's decline has finally bottomed out." Seasonal demand from the education sector provided a slight boost in the third quarter, although weak enterprise PC demand offset some of this growth. Kitagawa also noted that vendors have been successful in reducing PC inventory, which is expected to normalize by the end of 2023, provided holiday sales remain stable.
The top vendors in the worldwide PC market remained unchanged, with Lenovo maintaining its No. 1 spot, holding a 25.1% market share. Interestingly, HP was the only vendor to exhibit year-over-year growth, with a 6.4% increase in shipments. Dell and Apple, on the other hand, reported declines in shipments, impacted by weak enterprise demand and seasonal trends, respectively.
United States
The U.S. market followed the global trend, declining by 9.3%. Weak enterprise demand was the primary culprit, although growth in Chromebook sales for K-12 educational institutions offset some of this decline.
EMEA (Europe, Middle East, and Africa)
The EMEA PC market declined by 3.6% year-over-year. Political unrest, inflationary pressures, and interest rate increases have led to reduced PC budgets and low consumer demand.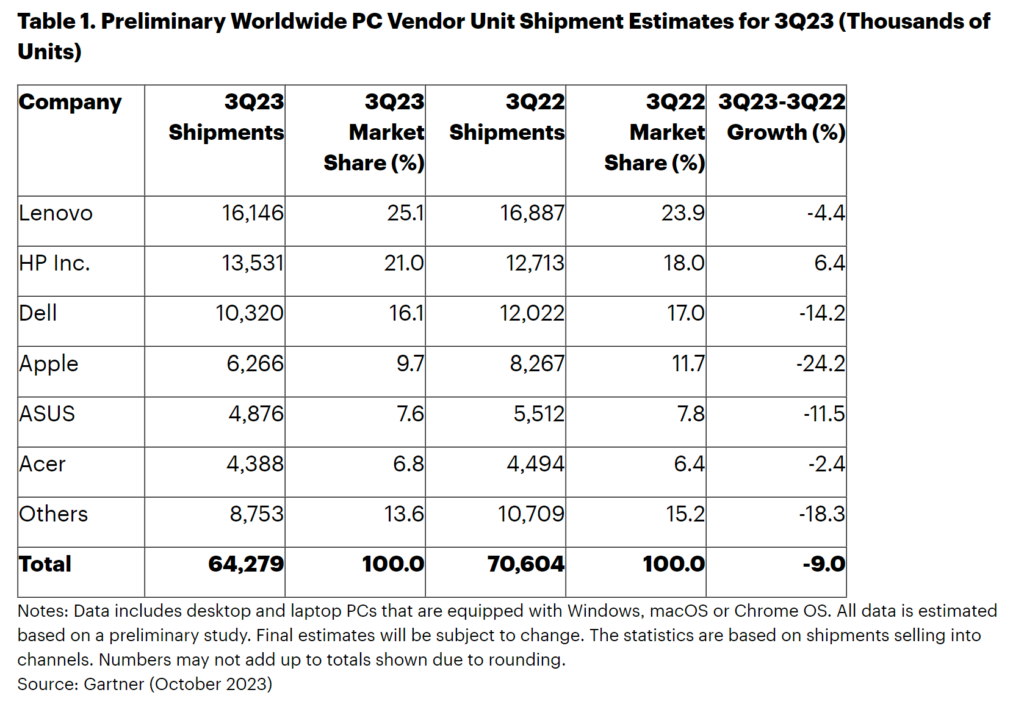 Asia-Pacific
The Asia-Pacific market saw a steep decline of 13%, driven by a 20% decrease in China. Both consumer and enterprise PC spending remained weak, impacted by unemployment and government spending cuts.
India
In India, new import restrictions announced by the Directorate General of Foreign Trade (DGFT) caused a minor disruption. However, a revised announcement extended the deadline to November 2023, allowing imports to resume at normal volumes.

The Road Ahead
"The business PC market is ready for the next replacement cycle, driven by the Windows 11 upgrades," said Kitagawa. Consumer PC demand is also expected to recover as PCs purchased during the pandemic enter their refresh cycles. Gartner is projecting a 4.9% growth for the worldwide PC market for 2024, with both business and consumer segments expected to grow.
The Wrap
While the PC market has been in a state of decline, there are signs of recovery on the horizon. With inventory levels normalizing and the anticipation of Windows 11 driving the next business PC replacement cycle, the market is poised for a turnaround. Only time will tell if these projections hold true, but for now, the industry has a glimmer of hope.