In an extraordinary accomplishment, CIO Partners®, a nationally recognized technology leadership retained search firm, has been named by Inc. Magazine as one of America's fastest growing private companies. This distinction marks the firm's seventh appearance on the esteemed Inc. 5000 list and establishes CIO Partners as the fastest growing executive search firm on the list with a specialization in technology leadership positions such as CIO, CTO, and CISO roles.
Inc. 5000 2023: An Impactful List with Stringent Criteria
The Inc. 5000 list for 2023 recognizes companies that collectively generated $358 billion in revenue for 2022 and created over a million jobs. The ranking methodology underscores the rigor and precision behind the list. Companies are ranked according to percentage revenue growth from 2019 to 2022. To qualify, they must have been founded and generating revenue by March 31, 2019, be U.S.-based, privately held, for-profit, and independent as of December 31, 2022. The minimum revenue required for 2019 is $100,000, and for 2022 it's $2 million.
CIO Partners' Unmatched Growth Journey
The Atlanta-based firm's impressive three-year growth rate of 140% is a testament to the dedication of the professionals at CIO Partners. Meeting the rigorous criteria of the Inc. 5000 methodology, the firm has showcased an inspiring success story.
Founded in 2001, CIO Partners stands out with a niche practice focused entirely on assisting clients in hiring top technology talent. The firm's unique engagement model and talent strategy were developed by a former CIO, positioning it to provide access to the top 5% of technology candidates for client partners.
Their ability to place senior IT leaders across diverse industries and corporate sizes, from startups to Fortune 100 organizations, has made them an indispensable asset to the technology world.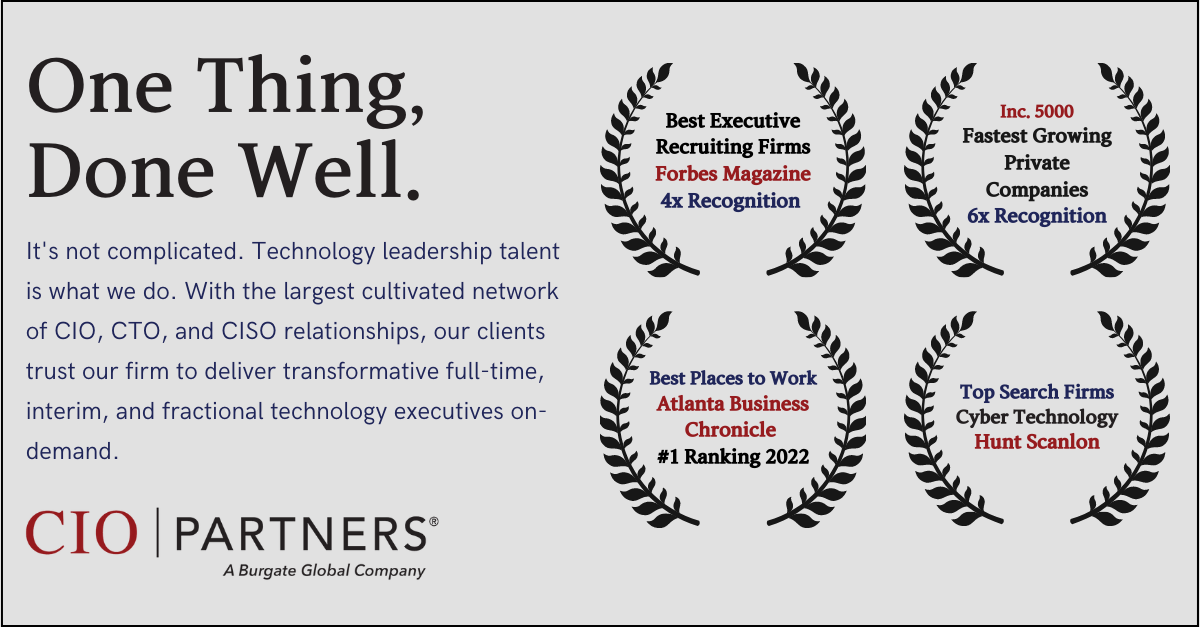 Industry-Leading Client Satisfaction
At the core of CIO Partners' client-centric approach is their utilization of the Net Promoter Score (NPS) methodology, an industry-standard for measuring customer loyalty and satisfaction. CIO Partners has achieved an industry-leading NPS score of +71, setting them apart as a beacon of excellence within the executive search sector.
This remarkable score represents the firm's consistent dedication to client satisfaction, quality service, and innovative solutions tailored to their client partners' needs. It emphasizes a proactive approach, wherein feedback from clients is not only collected but analyzed meticulously to drive continuous improvement.
A score of +71 reflects a high level of trust and willingness among clients to recommend CIO Partners. It underscores the strength of the relationships the firm has cultivated and their unparalleled commitment to ensuring client satisfaction.
Recognitions and Accolades
CIO Partners is no stranger to accolades. Recently ranked #1 on the Atlanta Business Chronicle's list of Best Places to Work, this marked their seventh time as a BPTW finalist. Recognition by Forbes as one of America's Best Executive Recruiting Firms further solidifies their place among the best in the business.
The firm's seven-time honor on the Inc. 5000 list paints a vivid picture of consistent growth, innovation, and unwavering commitment to excellence.
The Wrap
CIO Partners' distinctive place on the Inc. 5000 2023 list as one of the nation's fastest growing private companies reflects consistent growth and a commitment to excellence. As the highest-rated executive search firm focusing on technology leadership, their specialized services set them apart in a competitive landscape.
Visit CIO Partners and follow their LinkedIn page to learn more about their journey of shared success.