Members of the fastest-growing online community for technology leaders, the CIO Professional Network, recently participated in the organization's annual NPS survey and awarded the three-year-old platform high marks with a collective Net Promoter Score rating of +74.
The NPS methodology is a proprietary customer experience instrument developed by Fred Reichheld and jointly owned by Satmetrix and Bain & Company. The tool is the industry standard for measuring the overall perception of an organization's brand and is used annually by the CIO Professional Network to provide a comprehensive view of overall customer experience performance.
"Not only was our community participation in this year's survey off the charts, but this was the highest NPS rating in our short 3 year history, up from +50 just one year ago," said Kelsey Brandt, Community Manager and CIO Crew Leader.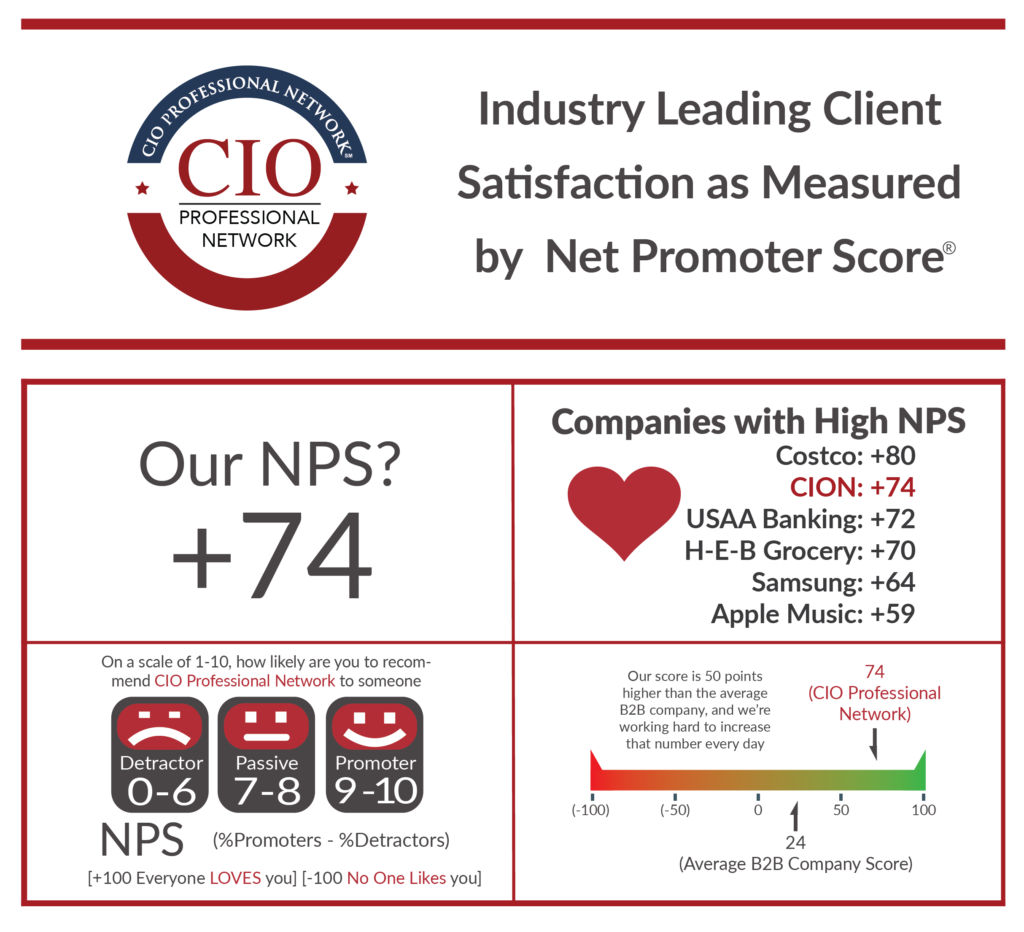 Founded in 2020, the CIO Professional Network is a private, online platform where technology executives and thought leaders collaborate and share best practices in a vendor-free community.
Along with giving the start-up community high marks, network members also provided some key narratives regarding the platform.
"The CIO Professional Network is the best investment a CIO can make in themselves. There is 10x greater value than paying for a Gartner membership/engagement and a true sense of community that sets this group apart. Nothing else like this exists, it is a CIO's greatest secret to success."
"The CIO Professional Network gives us the tools and prompts to learn and share with the crew and other members. The services they provide have been invaluable to me and my team. Thanks to the team and the members that make this platform great!"
"I appreciate the independence from corporate sales, the press (e.g. IDG), and other organizations that have a significant bias. The focus stays on adding value for members."
"The topics and level of discussions continue to resonate with what many CIO/CTOs have on our minds. Great topics. You guys continue to raise the bar. Learning resources continue to get better and better."
"During my time as a member, the only constant has been change, and all the change has been for the better for the community as a whole. Whether articles, member participation, the CIO Crew working behind the scenes, member Q & A/information exchange, roundtables… all valuable for CIOs."
"The network really is set up to give CIOs tools they can use to grow in their job. Often if you are having a question or an issue you would like feedback on, you do not even have to post it in the forum because there is already a thread started that you can review and participate in."
"The events are well thought out to provide insight on topics that many of us are facing and being able to watch them even if you do not have time in your schedule to participate live is a nice benefit. I am an avid reader and having access to book recommendations ranked by peers, and also summaries of books is something that I utilize often."
To learn more about the CIO Professional Network and its membership requirements visit MyCIONetwork.