I began my career as a young technologist and was fortunate to rise to the rank of Chief Information Officer very early during that path.
However, as an entrepreneur at heart, I felt the call and in 2001 started a journey to build what is now the #1 executive search firm focused 100% on serving technology executives and assisting great companies in hiring their top technology leadership.
From a unique vantage point in having served in the seat and in advising technology professionals for over 20 years, I have had the privileged opportunity to observe how various organizations align to this community and develop their models toward the betterment of the great individuals that we serve.
Unfortunately the model is broken.
Simply put, the myriad of vendors, choices, and support systems for those either in or aspiring to the ranks of CIO, CTO, or CISO, are disjointed and often times serve the service provider first rather than the oh so important beneficiary.
There has to be a better way.
Seeking new ways to serve technology leaders, in 2004 we began building very informal networks of technology leaders in various regional, industry, and domain groups. Dusting off my 1990s CIO title, we implemented an old email list server which allowed them the opportunity to ask simple questions of one another, solicit best practices, and mutually recognize one another. It was simple, not flashy, and a tech leader could ask one question and quickly receive feedback from 10 or 20 of their peers in a trusted and vendor-free setting. We were surprised but pleased that this approach toward serving this community grew so quickly.
We watched while other organizations built their own communities with various awards, vendor pitches, sponsored conferences that required either a hefty investment by the individual or a vendor subsidized pitch battle that in the end left technology leaders feeling a little hollow and underserved.
Early last year we began a journey to create something different and launched a new online platform for the CIO Professional Network. Little did we know that the events of 2020 would validate and accelerate adoption toward online networking communities.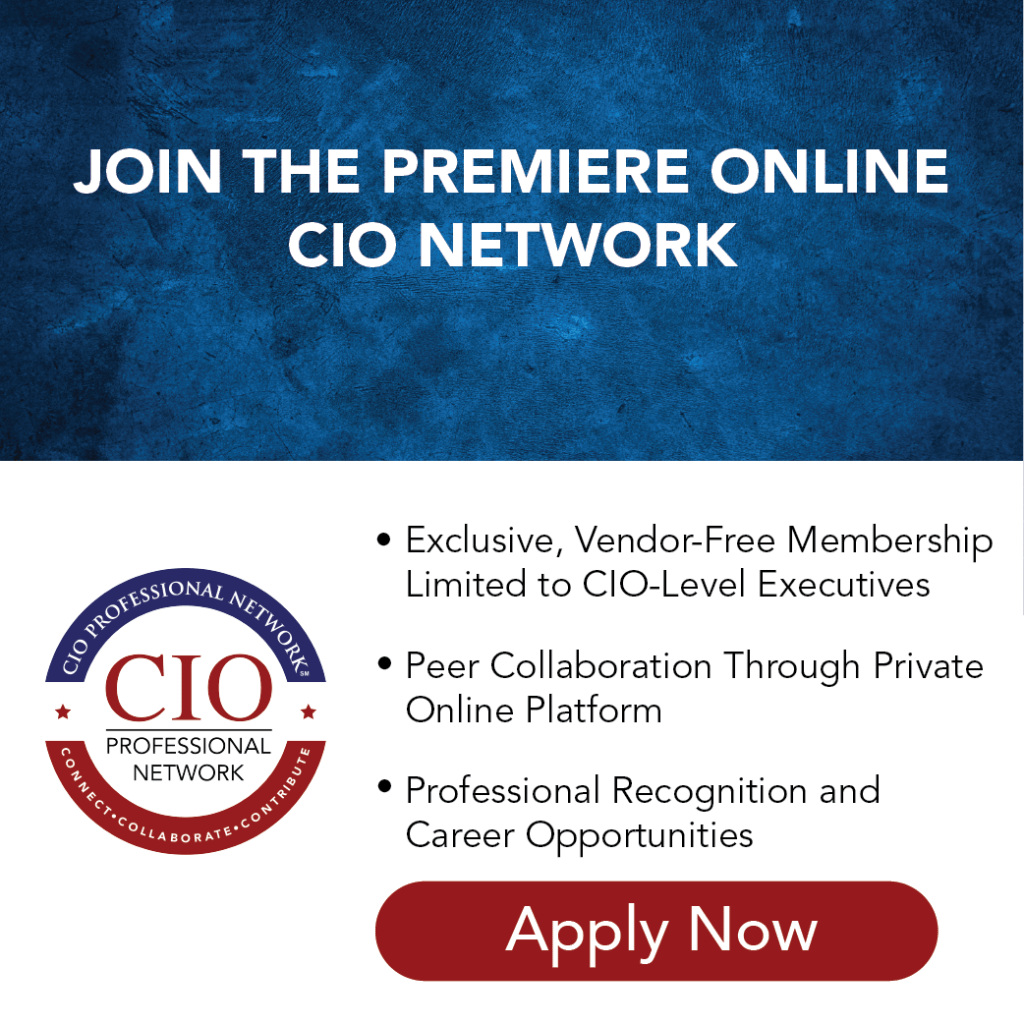 Our mantra for the CIO Professional Network is simple. Connect, Support, and Empower and our members and the team we have built to serve them take that to heart.
A far cry from our origins as an old email list server, this platform for CIOs, CTOs, CISOs, and the like is rapidly developing into a true ecosystem for forward-thinking IT leaders.
As a former CIO and executive advisor to technology leaders, I would encourage you to check it out.
We are building something great and with your engagement this member driven community will truly become the #1 destination for technology leaders to connect, collaborate, and contribute within an eco-system truly focused on the long term success of its members.