After a distinguished early career with General Electric, Yogish Suvarna transitioned to Aspen Dental Management, Inc. – the organization that provides business support services to over 740 Aspen Dental practices – as its Chief Information Officer. In his four years at ADMI, Yogish has led a foundational and digital technology transformation for the company.
As a business technology executive with a passion for working to automate processes to improve productivity, Yogish provides leadership to solve business problems with strategic technology solutions. He is focused on improving patient engagement channels, going paperless, and implementing artificial intelligence programs for their stakeholders.
We had the opportunity to sit down with Yogish and talk about essential traits for CIOs, his thoughts on disruptive technologies on the horizon, and his people-first philosophy.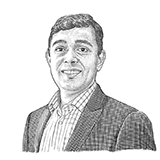 Walk us through your CIO path. How did you decide to pursue a career in technology, and how did you progress to your current organization?
Early in my career, I discovered my passion to work with people and automate processes that improve efficiency and productivity. This curiosity for learning new things and leading people to find strategic solutions to business challenges earned me my leadership role in technology.
After completing my M.S. in Engineering Management, I began my career with G.E. Lighting in Cleveland, Ohio to help transform mainframe technologies to open architecture systems. As years went by, my proven ability to lead IT organizations in Fortune 500 companies created a direct path to a leadership position.
In April 2015, I joined Aspen Dental Management, Inc., the organization that provides business support services to Aspen Dental practices, as its Chief Information Officer. From the first day, I dedicated my time and energy to building people, processes and technology. In my opinion, it's all about getting the right mind-set, skill set, and tool set to take care of the vision, mission, and strategy of the organization.
We've come a long way since 2015, and we still have a long way to go! Under my leadership, the IT team is in the process of strategically implementing business resilience processes and implementing the innovative technology necessary to sustain and grow ADMI to the next level.
Would you consider yourself a CIO, a CTO, or a hybrid? Why? What are the essential differences?
I consider myself a business technology executive who can provide thought leadership to solve business problems with strategic technology solutions. In my opinion, the title doesn't matter, but as a top technology executive, you need a seat at the executive leadership table. It's important to have the ear of the CEO.
What initiatives have you overseen to date in your time with your organization? What's on the horizon?
At ADMI, I led a foundational technology transformation utilizing digital technologies to meet business goals and enhance patient care.
We're going paperless. Our goal is to be able to walk into an Aspen Dental practice with just a driver's license and insurance card – no paper. By scanning those documents and putting in all the details automatically will take the patient experience to the next level. It's not only going to improve the patient experience, but we can also improve efficiency and see more patients. Going digital will also help secure and protect patient information.
Looking to the future, I'm keeping a close watch on autonomous things, augmented analytics, quantum computing, and disruptive digital clinical technologies, including AI, RPA and cognitive devices.
How do you foresee your institution being different in two years, and how do you see yourself shaping that change?
I foresee technology becoming the front-end of our business. This shift includes initiatives including going paperless, digitization, creating multi-channels to connect with Aspen Dental patients along with automation using artificial intelligence, and augmented analytics. These initiatives will shape our future for the next two years. In addition to finding the right technology solutions, I believe having the people with right attitude is equally important.
Share your thoughts on the availability of IT talent. What strategies do you employ, and what's different in your organization?
I've had this discussion with many successful CIOs, and one of the biggest challenges that every technology leader faces is sourcing the right talent at the right time to meet the constantly changing needs of the business.
New advances in technology and automation can disrupt a multibillion-dollar business in a span of three to 18 months. My advice is to surround yourself with innovative companies and partners who can help you and your team with meeting business needs and bridge the gap in your ever-changing talent needs.
What new or disruptive technology issues or emerging trends do you think will impact your industry in the future?
Autonomous things, digital twins, augmented analytics, quantum computing, empowered edge for cloud computing, digital ethics and privacy, and blockchain are going to be center stage in the next five years. Most of these technologies will help businesses with cost cutting and revenue generating initiatives, especially when keeping patient data privacy and security in mind.
What personal traits and attributes are essential for today's CIO versus 10 to 20 years ago?
Great question. Being a servant leader, having a curious mindset, developing strong business acumen, staying highly social and collaborative, being self-aware, remaining customer-focused, being cause-driven, result-oriented and bold, knowing when to comply and when to push back. These are some of the must-haves for today's CIO and for future CIOs.
What advice would you give for someone who aspires to be a CIO?
First, I would say only strive to be a CIO if you have passion for this job as it requires dedication.
Also, always remember that people come first, then process and technology. Surround yourself with smart and dedicated people, as a strong team is a must-have for business success. Try to run IT like a business and be the disruptor, not the disrupted.
How do you decompress from the challenges of being a CIO? What do you do for fun?
My favorite place to be is home with my family. Even with a busy schedule, I take time off to be with my kids and visit new places and explore different ethnic foods. My wife and kids are equally curious when it comes to food! Once, we rode a ferry from Delaware to New Jersey to have dinner at one of their famous seafood restaurants. Also, my goal is to exercise four days a week, but I am still working on being 100% compliant.
Who have been your biggest influences, and why?
The first one is my dad. He was my biggest influencer and taught me the importance of ethics and loyalty.
The second is Charlie Weston, retired CIO of Bloomin' Brands. He mentored me while I was working at Winn-Dixie and Bloomin' Brands, and he gave me the opportunity to learn different areas of technology and made me ready for the CIO job.
I am also fortunate to work for and learn from my current leader, Bob Fontana, founder and CEO of Aspen Dental. His business acumen is impeccable. He built the Aspen Dental brand from 20 to 745 locations in a very short time span.
Which books have you gifted the most over your career?
Jim Collins' book, "Good to Great." My biggest takeaway from the book was this: Get the right people on the bus in the right seat. This is true in everything I do daily.
If you weren't doing the job that you have today, what would be your dream job?
I just started the CIO role four years ago, so I have at least 18 more years to go before retirement. Technology is my passion, and business is my interest. So, one day, I may be taking on bigger responsibilities that involve business and IT.
What would you want our readers to know about you that we haven't asked?
A few things. First, having the right people in your team is key to your and your business's success.
Second, IT legacy system transformation takes undivided focus and attention from you and your team. IT transformation also requires dedicated time, effort, experimentation and a few business disruptions. As an IT business leader, be effective in communicating the short-term business impact of technology transformation and long-term benefits to the CEO of your organization and your peers. Also, the only constant is change. Explain to your team the "why" and what happens if you don't change.
Last – but not least – it's a good time to be a technology leader, but you have to be a good one.