Earlier this year, John Lukas transitioned into the role of Vice President of Information Systems and Technology at RaceTrac, which operates over 800 convenience store locations in Florida, Georgia, Louisiana, Tennessee and Texas and has been recognized on the Forbes list of largest private companies every year since 1998.
In this issue, John shared how his interest in technology at a young age led to the progression in his career path, from his first job as a software developer at Bristol-Myers to his current role. He walked us through the initiatives that he has overseen to date at his organization, his insight on RaceTrac's technology goals for the next few years, and how he is seeing COVID-19 shaping innovation.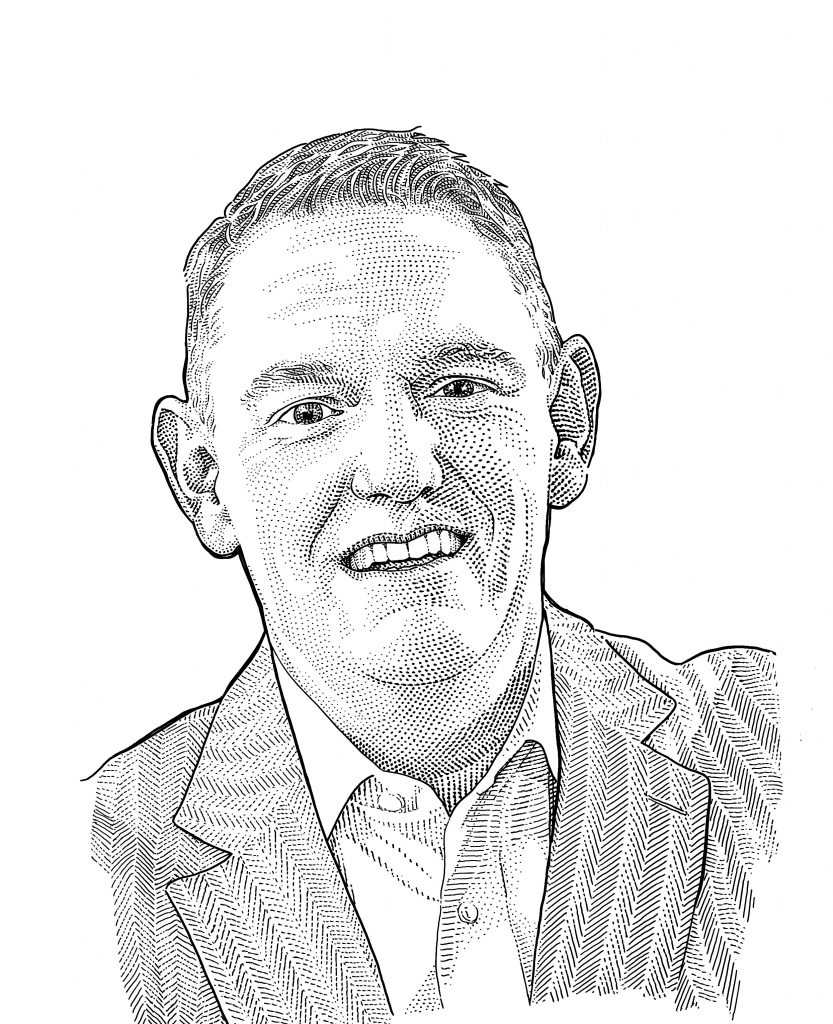 Walk us through your CIO path. How did you decide to pursue a career in technology, and how did you progress to your current organization?
I knew from the earliest days of my IT career that I wanted to be a CIO. Early on, I wondered how that would become a reality. Over the years, I tackled each project and opportunity with gusto, viewing them as building blocks to my ultimate goal. As I moved through several organizations, with increasing levels of IT responsibility, I also completed my Masters in Technology Management and earned an Executive MBA.
Throughout my career, I have felt a connection to, and a general kinship with, technology. I have had the pleasure of working for several great brands and mentors that have further fueled my technical curiosity and innovative spirit.
Would you consider yourself a CIO, a CTO, or a hybrid? Why? What are the essential differences?
I consider myself to be a mashup of a CIO, a CTO and a CDO. Obviously keeping a close eye on IT operations is key to maintaining business continuity. However, a great deal of my time is spent on customer-facing initiatives that seek to elevate our brand, streamline operations and enhance customer experiences in-house, online, and in-store.
The need to digitally innovate continues to be a vital strategy; one that cuts across many, if not all, industries. In order to be successful in my role, I must embody a mix of business leader, innovator and technologist.
What initiatives have you overseen to date in your time with your organization? What's on the horizon?
Having been at Bassett Furniture for eight months, I am just getting started. That said, it has been an action-packed opening stint. We have a host of transformational initiatives in-flight and on-deck that will elevate our brand and provide differentiation in the marketplace.
Our most exciting in-flight initiatives include our cutting-edge product digitization and rendering technology that brings our amazing, highly-customized products to life on the screen. Another is our in-store mobility solutions that allow our design consultants to engage and work with customers throughout the store, with instant access to product data, design tools, customer information and point of sale systems.
Bassett is an amazing 117-year-old brand, steeped in history, craftsmanship and pride. I like to say that my primary job is "future-proofing" the organization, from a technology perspective, as we chart our course for the next 100 years.
How do you foresee your organization being different in two years, and how do you see yourself shaping that change?
Like many clicks-to-bricks retailers, we will continue to introduce more digital capabilities in the coming years that elevate our online and in-store experiences. We will also continue to optimize and fine-tune our supply chain and manufacturing operations, which will further differentiate us within the furniture industry in terms of lead times, quality and customer satisfaction, for example.
As with many organizations, IT demand often outweighs capacity. We will further improve our change management and prioritization processes at the ELT level, ensuring that we focus on initiatives that yield the greatest net impact on customer experience and profitability.
Share your thoughts on the availability of IT talent. What strategies do you employ, and what's different in your organization?
Finding top IT talent in the marketplace is difficult to say the least. Retaining top IT talent can be even more difficult. I'm in the process of growing and evolving the Bassett IT organization.
As part of the recruiting process, I leverage the richness and longevity of our brand, along with our eagerness and willingness to invest in transformative initiatives.
I also focus on technical training and advancement. I like to surround myself with bright, fire-in-the-belly technologists that share a similar quest to continually improve and enhance our differentiators, ultimately leaving the organization in a better position than when they joined.
What new or disruptive technology issues or emerging trends do you think will impact your industry in the future?
Augmented reality will be a game changer in our industry as our customer base continues to evolve. Customers continue to be more and more informed when walking into our stores. As part of their early-on research, they want to see our product within their personal spaces.
We will begin to look for ways to bring AR technology into the overall online shopping experience. Artificial Intelligence and advanced personalization are other exciting technologies that will enhance our internal and selling processes, creating more compelling customer experiences.
What personal traits and attributes are essential for today's CIO versus 10 to 20 years ago?
In some ways, essential personal CIO traits are very similar to those of 10 to 20 years ago. By that, I mean that leadership, technical curiosity, awareness, ability to lean in, integrity and compassion are mainstays.
However, being a CIO today also requires that you fully participate within – and enable – the business through strategy, optimization, innovation and expanded revenue streams.
What advice would you give for someone who aspires to be a CIO?
Think about why you want to be a CIO. Identify and secure a senior technology mentor. Put yourself out there in terms of tackling challenging initiatives and opportunities. Push yourself to continually learn via academic programs, technical training and personal study. Do what you must to remain current, technically and operationally.
Importantly, don't be afraid to fail. And when you do, pick yourself up and identify the learning opportunities. Keep pushing because the CIO seat can one day be yours.
How do you decompress from the challenges of being a CIO? What do you do for fun?
It's easier than you think. My decompression recipe is working out, riding my bike, reading and spending time with my family. Given that we are "on" 24-7-365, it's easy to take the CIO role home. Do your best to leave it at the office, although understand that you will occasionally get the dreaded 2:00 a.m. call. Push yourself to find and maintain balance between life and work.
Who have been your biggest influences, and why?
Professionally, my biggest influencers have been two of my previous CIOs: Jim Nanton, retired CIO at Hanesbrands and Michael Toth, CIO at NEST Multi-Facility Management (former CIO at David's Bridal).
Each of them had CIO traits that I found to be motivating in terms of how they conducted themselves, supported the business, leaned into innovation and rallied the team. I would not be the CIO I am today without their guidance and support over the years.
Personally, my biggest influencers were my parents and grandparents. I grew up on a farm in North Carolina, so from my earliest days an unshakable worth ethic was instilled in me.
They also imparted unconditional love, respect, drive and wisdom – and a big dose of common sense. To this day, I rise and shine early and can often be found at the office before seven o'clock, without coffee support. Without them, I wouldn't be the man, husband and CIO that I am today.
Which books have you gifted the most over your career?
The top three are "Winning" by Jack Welch, "The Five Dysfunctions of a Team" by Patrick Lencioni, and "Good to Great" by James Collins.
Others include "The Transformational CIO" by Hunter Muller. "The First 90 Days" by Michael Watkinds, "Confessions of a Successful CIO" by Brian Watson and Dan Roberts, and "Straight to the Top: Becoming a World Class CIO" by Gregory Smith.
If you weren't doing the job that you have today, what would be your dream job?
Italy is my favorite part of Europe. If given the opportunity, I would own or run a winery/B&B in Tuscany. The more wine, pasta and gelato, the better!
My family and I go to Italy as often as we can, and we've been all over the northern region, though we haven't made it to the southern part of the "boot" yet.
The first time we went, we tried to see as many sights as possible in a week, but the second time, we spent two and a half weeks there. It really allowed us to go off the beaten path and see things we wouldn't have been able to see otherwise.
What would you want our readers to know about you that we haven't asked?
I have more than 15 years until I reach retirement. Between now and then, I want to have the greatest possible impact on the organizations with which I am involved, along with mentoring and propelling as many bright young IT stars as possible. I view this as my way of paying it forward.
There are two quotes that have always stood out to me. The first is "Change is hard at first, messy in the middle, and gorgeous at the end" by Robin Sharma. The second is from Socrates: "The secret of change is to focus all of your energy, not on fighting the old, but on building the new."