Don Zimmerman has made a career of identifying opportunities to utilize technology to advance a business's efficiency and agility. His breadth of experience expands internationally and across various industries including retail, restaurants, and hospitality – leading to his current role as Senior Vice President and Chief Information Officer at Landry's, a hospitality corporation with more than 600 restaurants, hotels, casinos, and entertainment destinations in 35 states and the District of Columbia.
In this issue, Zimmerman describes his career path and how his propensity for leadership and ingenuity opened doors for new opportunities in the evolving technology sector. He details his initiatives in his new role, including his ideas to implement the newest trends in technology and raise the bar on the talent being brought to his team.
Walk us through your CIO path. How did you decide to pursue a career in technology, and how did you progress to your current organization?
It started in college. I went to school to be a business major, focusing on accounting. But along the way, an accounting professor of mine said, "You really ought to look at a career in technology. It's where the future is headed." He was the kind of guy that you wanted to listen to, and I did. I had a work-study job at the time in the data center at the university, so his advice clicked with me. I liked what I was doing there, even though it was ancient by today's comparisons. By the time I graduated, while I loved accounting and was good at it, I did not want to do it. I wanted to get into the technology field.
I landed my first IT job with General Dynamics. I had several opportunities coming out of school, but the F-16s got my attention, which is what they were making at the time. But what I learned pretty quickly is that culture matters.
After about a year and a half at General Dynamics, Frito-Lay came calling – a consumer products company, a fun company, a snack company. It was an easy choice once I went over there and saw the culture they had. I said to myself, "This is where I want to be." So, I made the switch and I was there for almost 12 years. I consider those the formative years, if you will, of my technology career
One of the cultural things that Charlie Feld, the leader of IT there at the time, pushed and espoused was this: give people an opportunity to learn new things every couple of years, and the best people will accelerate through it. Taking advantage of that opportunity, I had a new role within the company every two years. As a result, I experienced almost all the jobs in IT over time.
Then leadership opportunities opened, and then bigger leadership opportunities opened, and that is how it grew.
Sears was trying to rebuild their culture, rebuild their business, turn it around and make it successful for the future. At the time I joined, they had just closed the catalog business which was losing a million dollars a day. They had a good turnaround story to tell me, and I respected the leadership.
Another big incentive was that it enabled my family and me to return to the Midwest. We had our time in Dallas and Fort Worth, we had our kids, but most of our extended family were either in Minnesota or Michigan. Moving to Chicago gave us easier access to them. Sometimes you have to consider personal and family factors.
Sears was structured as a retail business, a credit business, and a services business. Initially, I was in a shared services role, but I soon became the technology leader of the credit business. Then when credit combined with services, I was responsible for both of those for a time. When the enterprise CIO left, I was asked to be the interim CIO of Sears for about six months during the search. I did not get the job, they said I was still too young, but it was a great opportunity, nonetheless.
Some neighbors, my daughter, and I went to Michael Jordan's last game at United Center in Chicago. One of the neighbors was talking, and said, "Hey, I heard there's a job at Arby's." That perked my attention because I had interned with Arby's in Atlanta during one summer of my college days. I asked to be put in touch with his contact.

I called them and started the conversation. Turns out I had worked for the recruiting manager as an intern. He did not remember me until I told him because it had been a few years. The rest is history. I got the job and that was my first true CIO role.
Would you consider yourself a CIO, a CTO, or a hybrid? Why?
I think I align more closely with a CIO. I tend to see CTOs as a little more technical, more architectural maybe. They own the engineering in some cases. A CIO is a little more business-aligned or business-oriented.
I actually don't like either title. I think today it is Technology Leader. If I could rename the organization – and I still might – I would not call it "IT". I might call it Technology because we are now more than information technology. We automate – or can automate – any aspect of the business. Information results from that, but even back in the day when it was referred to as IS or IT, it was not about informational reports. It was and still is about what you can do to drive the business.
What initiatives have you overseen to date in your time with your current organization? What's on the horizon?
We positioned and got approval for a digital strategy – I call it "digitizing the business" – to enable ordering takeout and delivery. A lot of restaurants would say, "Well, we've been doing that for years," but the high-end table service concepts that we largely own did not focus on digital channels prior to the pandemic.
With the pandemic, they reacted quickly to put some of the pieces in place. In fact, I was impressed with Landry's as a customer before I got here. Now, we are going to be rolling these digital channels out across the entire business and doing it as fast as we can.
I won't take credit for starting the next one, it was in the initial stages when I got here – digital marketing. However, it resonates with me because I have long been an advocate of true one-on-one marketing capability that can be enabled by the technology and the data behind it. This is another important digital initiative here at Landry's.
Besides all that, we are implementing network upgrades, data center modernization, and other similar foundational aspects. These are not always game-changing initiatives, but things that will allow us to be more agile.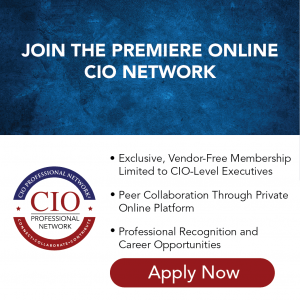 How do you foresee your organization being different in two years, and how do you see yourself shaping that change?
I already mentioned truly embracing digital in all aspects. We run great, high-end brands, but as I said, they were primarily focused on in-store channels. We are going to change that and really take advantage of the brand recognition of the assets we have.
We are going to be an organization that is more agile as a business. If you look at Landry's history, there is a track record of acquiring, divesting, investing, and creating. That business dynamic is not going to stop. It might actually be fueled by the pandemic a bit if there are bargains out there. The ability to be agile and adjust to changing environments more quickly and with less cost – which could be personnel effort or technical cost – is something I think we have to achieve, and I think we can.
What new or disruptive technology issues or emerging trends do you think will impact your industry in the future?
Ninety days in, I think bots are going to become very significant in what we do. If you think about it, we still have a lot of voice conversations, whether it is reservations, information in a hotel about such as where's the gym or where's the spa, etc. A lot of that can be handled very effectively, if we do it right, with a voice or chatbot, and still not deprecate the customer experience in any way. They will be powered by AI to truly be conversant, not just "If you ask this, I'll say this."
We are very consumer-oriented, obviously, in a lot of different ways. I think at least for us, payment technologies are going to continue to drive change in our businesses. Whether driven by consumer preference, by security reasons, or by cost – it is now on a rapid change cycle.
Share your thoughts on the availability of IT talent. What strategies do you employ, and what's different in your organization?
Availability changed a lot this summer because of the pandemic. Here in Houston, oil and gas, which is a dominant local industry, is way down. There are a lot of people on the market with a lot of rich talent, just not experienced in restaurants. That is just an example. This is a more localized example, but it has changed the availability picture at least temporarily.
My search strategy: Look to always raise the bar. That is the way it was at PepsiCo. That doesn't mean the people you have aren't growing, but if we can bring someone that sets a new bar, every time we do that, we're going to be stronger as an organization. I don't think that's a trend; I think it is a fundamental that if you embrace it, can serve you well. Find people with real well-rounded experiences and focus on true accomplishments.
The bottom line what I want to achieve is to make sure we are more agile and have people who have done different things in different ways in different places. They can, in theory at least, be more agile because they have done it already.
What traits and attributes are essential for today's CIO versus 10 to 20 years ago?
When you get to the fundamentals, it is still the same. Be business-minded first, willing to effectively team with the other functions, and if you can do that, you are going to accomplish great things for your business. That is not earth-shattering. That is what Charlie taught us back in the Frito-Lay days because that's what he did. A lot of us wanted to be Charlie. He was a salesman first. Not all of us could communicate as he did, but we wanted to be that kind of leader that people wanted to follow. I don't think that fundamental has changed over the years.
What has changed is the pace of change. Hence, the need to be more agile. We had to be agile back then, but Charlie would remind us, "Look, we're not making computer chips. We're making potato chips. Let's not take ourselves too seriously," even though we did. But now, it's how fast are we going to adapt to the pace of change? Who saw 2020 coming? To credit this organization – I do not take any credit for it because it happened before I got here – they quickly recognized things had to change. They made a lot of tough changes and survived. I feel like we are starting to come out the other side, but we're not there yet. Agility and quick decision-making are fundamental to what a CIO has to do, and some of that won't ever change.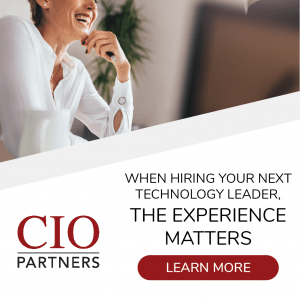 What advice would you give for someone who aspires to be a CIO?
Get a well-rounded set of experiences. Fill in that portrait. Frito Lay really shaped my philosophy and I always share it with the team when I get into a new role. I tell them that they paint their own portrait. If you only do one thing and you keep painting it over and over again, that's fine, but the portrait isn't complete. How much of it can you complete over the course of time, or a stint at a company, or even a stint in a role? Flesh it out! As you do that, you build out a complete person, a professional, a portrait. You are better and stronger for the next thing you do.
Don't fall into the trap of cookie-cutter thinking, meaning "A CIO just looks like this." There can and should be a lot of variation and diversity – it makes things stronger. The more diverse your experience set, the more prepared you are for that leadership position. Because one thing about leadership: you don't know what is going to come next.
How do you decompress from the challenges of your current role? What do you do for fun?
First and foremost, time with family. When we are with them, and the grand dogs – that is always a good way to bring you back to reality. Unconditional love, either from your kids or your dogs, is always a good thing.
Also, anything outside. When we were in Georgia, the mountains. There are no mountains here in Houston, but there is a vast set of unique options and sports. Just get outside and do something different.
Which books would you most recommend that others read?
Is This Seat Taken? is a series of short little stories that the author, Kristin Kaufman, actually experienced – whether on a flight, a business trip, a home event, whatever it might be. It is about what might happen if each of us were really aware of and paid close attention to what otherwise are seemingly insignificant encounters that we have every day. I still recommend these today.
Blind Spot IT by Charlie Feld is another. It is somewhat dated now, but in many ways is also timeless. It holds a special place in my heart because it is about things I was around for and a part of. It contains some important lessons about how you can create value in a business if you're not blinded by some of the things you just don't see.
Shut Up and Listen, which is Tilman Fertitta's book, came out recently so I had to put it on the list. I say that a bit tongue in cheek, but I did read it, and I found I absolutely align with many of the things he talked about – philosophically or in life. I read it before I took my current role, and I felt like, "I can work there because these are things I think are important as well," There's great advice in there.
The fourth one I'll put on here – and I haven't gotten it yet, so this may not count – but I'm anticipating it to be a good leadership book: Better Decisions, Fewer Regrets by Andy Stanley.
If you weren't doing the job that you have today, what would be your alternative dream job?
A builder. I've always dabbled in it. I actually worked for a builder to pay my way through college. I like to create things and see them after, and construction enables that. Or the other option is to own a barbeque restaurant and be the pit master.
What would you want our readers to know that we haven't covered?
For life to be fulfilling, there has to be some kind of balance. My wife and I, from the very early days aligned around how we were going to try and balance family and work demands. No one's ever done it perfectly that I know of, but you have to work at it.
Sometimes – and this is a title that I think is one of Andy's books also – you have to choose when and where you're going to cheat. Am I going to focus a little more on the family today because something is going on and I need to pay attention there and I "cheat" job a little bit? And then other times there is a deadline looming or a big decision or project that has to be done, and you choose to cheat a little family time. But the point is, it is conscious, and it's not always one way. Without getting too sappy, I think that is pretty important if you really want to look back and say, "I like what I did."