In a recent survey of 657 US executives, PwC reports that business leaders continue to show optimism despite the current economic climate. While four of five believe a recession is imminent, forward-thinking executives are moving beyond cost reduction and remain focused on transformation and growth.
Key findings include:
The economy is center stage: 90% of executives are concerned (34% moderately and 56% very) about macroeconomic conditions — more than any other issue. Four of five (81%) believe a recession is coming within the next six months.
Business leaders also worry about inflation. Eighty-six percent tell us they're concerned about the Federal Reserve's tightening cycle, 82% about wage growth not keeping up with inflation and 81% about declining consumer purchasing power.
In the next 12 to 18 months, executives are balancing cautionary moves with smart investments to drive targeted growth. Almost half (47%) say they're making changes to strategic planning based on current business conditions — more than any other activity.
This balancing act also applies to talent. Forty-four percent are hiring in specific areas to drive growth, 42% are planning cost cutting not including headcount reductions and 26% are planning to reduce the number of full-time employees.
Signs of confidence are also evident. More than three quarters (77%) are mostly or completely confident that they can achieve near-term growth goals, and 76% are confident in their ability to free up working capital.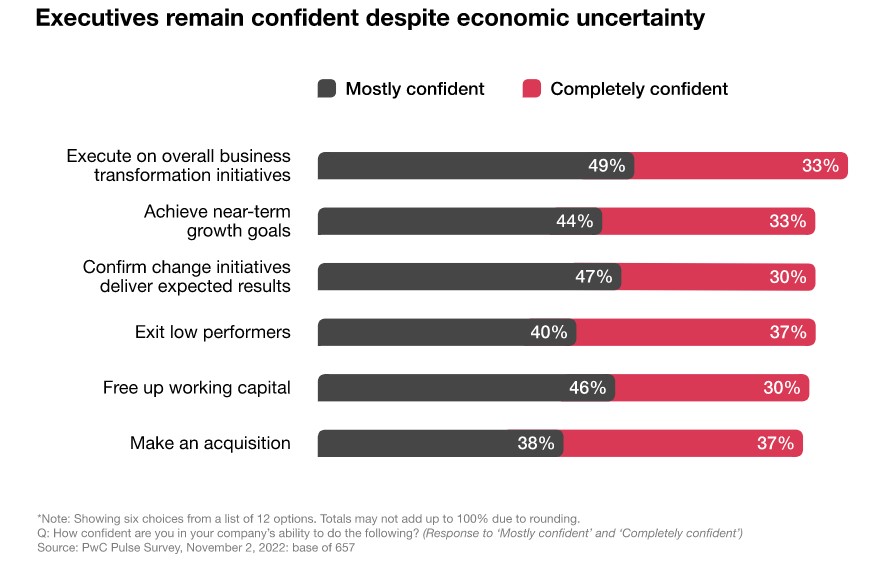 Source: PwC Pulse Survey: Cautious to Confident