Amid the buzz at this year's Gartner IT Symposium/Xpo, another critical insight emerged. With organizations laser-focused on enhancing operational efficiencies, innovation, and creating a competitive edge, the research firm revealed a forecast of 8% growth in worldwide IT spending for 2024, reaching an estimated $4.5 trillion. This translates to around $330 billion in additional spend and serves as a significant marker of technology's continued centrality in business strategy.
As we look ahead to 2024, there is a call to action for technology and business leaders to strategically allocate resources in a manner that maximizes ROI and positions their companies for future growth. Let's dive in.
Where is the Spend?
1. Hardware and Software Investments
Investments in hardware are expected to rise by 10%, reaching $720 billion, while software spending is predicted to grow by 12%, amounting to $590 billion. This signals that companies are ardently modernizing their technological foundations to keep abreast of the swiftly transforming digital environment.
2. Cloud Computing
Cloud expenditures are forecasted to jump by 20%, totaling around $340 billion. This robust growth underscores the cloud's transformation from a business luxury to an operational necessity, facilitating enterprise agility, innovation, and continuity.

3. Cybersecurity
Spending on cybersecurity is slated to increase by 15%, hitting a milestone of $150 billion. This substantial financial commitment illuminates the escalating awareness around the importance of safeguarding digital assets and consumer data.
4. Emerging Technologies
Investment in emerging technologies like AI is set to grow by 20%, reaching a staggering $50 billion. Similarly, IoT spending is expected to cross the $100 billion mark, and blockchain investments are projected to reach $5 billion, up from $1.5 billion in 2023.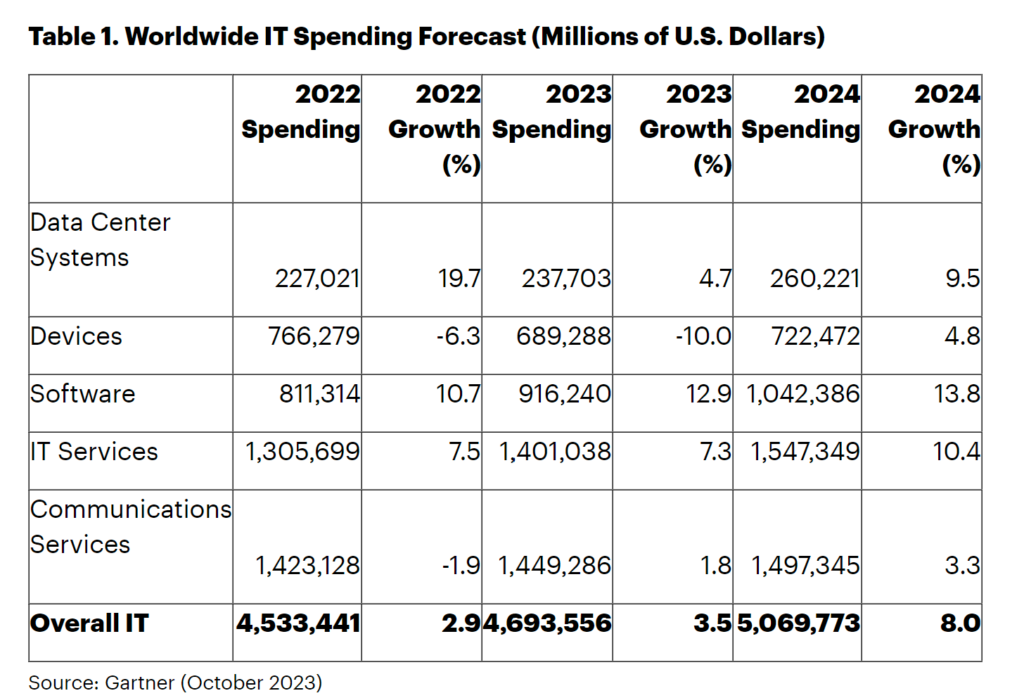 5. Sector-wise Spending
In terms of industry, the financial sector is expected to lead the way with a 12% increase in IT spending, followed by healthcare at 10% and manufacturing at 9%. These figures indicate where the most dynamic shifts in digital transformation are likely to occur in the coming year.
The Wrap
The anticipated 8% surge in global IT spending for 2024, amounting to a record $4.5 trillion, stands as a robust affirmation of technology's pivotal role in contemporary business strategy. As these substantial financial commitments indicate, enterprises are ramping up for a future where digital proficiencies are not merely beneficial but absolutely vital.
Given this trajectory, the year ahead promises a wave of technological innovations that will resonate across industries.