We all remember our first car. For me that white four-door 1977 Ford Maverick with a not so great paint job was not pretty, but as a means to travel from point A to point B, it got the job done. Sitting behind the wheel, I was in charge and I was going places.
Alas while this vehicle of new found freedom gave me a sense of control, I was merely a passenger and dependent on its various components in ways perhaps that I did not fully grasp as a young man on a new journey.
A car, simply put, is a sum of its parts. Transmission, brakes, engine, battery, steering, and suspension all work in concert to drive forward with operational efficiency. Yet when a vehicle's alignment is off, our path may veer to the right or to the left requiring extra energy and attention to safely arrive at our intended destination.
In reflection, as technology leaders we are in a driver's seat. And while some of us may be driving a vehicle held together with bubble gum and bondo, others may be fortunate to be leading behind the wheel of the latest and greatest model. In either case, alignment is all so important in leading our organizations toward an intended destination.
Recently, The National CIO Review polled our 2000+ member CIO Professional Network on their assessment of how their company leadership is engaged in championing the IT function as a strategic enabler in the business.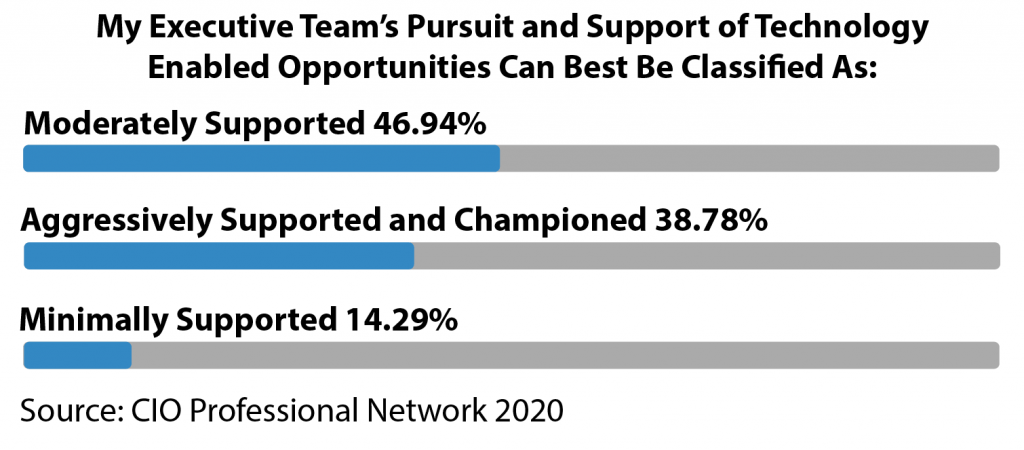 With over 61% of technology leaders reporting that the C-Suite's support and championing of technology as a strategic enabler of the business is minimally (14%) or at best moderately supported (47%), there is a grim realization that there is much work to be done in our roles as CIOs/CTOs/CISOs.
Yet there is hope.
39% of tech execs report register that technology is aggressively championed and supported across their executive teams. And given our demographic analysis of respondents we are pleased to report that this spans across all industries from manufacturing to high-tech, insurance to retail.
Perhaps Mark Hurd was prophetic in recognizing that not only is it critical to have a seat at the table, but that we must also hold that seat. With alignment between the CIO/CTO and their C-Suite peers being crucial in positioning technology as a strategic enabler of initiatives that drive revenue, improve customer experience, and in using technology to advance organizational goals, as technology leaders we are in the driver's seat.
It is our responsibility to bring alignment within our respective organizations. We are well equipped. Let's take the wheel.