The first Papa's John's opened in 1984, when "Papa" John Schnatter knocked out a broom closet in the back of his father's tavern. Fast forward 32 years, the Louisville based operator has taken a major technology step in naming Mike Nettles as the company's first Chief Information and Digital Officer.
Nettles, a pizza lover whose favorite topping is pepperoni, is responsible for leading the continued digitalization for Papa John's International along with all in-store and above-store reporting systems, supply chain management, and serving the IT needs of the chain's franchisee groups, both domestically and abroad.
In this issue of The National CIO Review, we had a chance to speak with Mike about his new challenge, the digitalization of Papa John's, some great fodder for recruiting, and some useful advice for aspiring CIOs.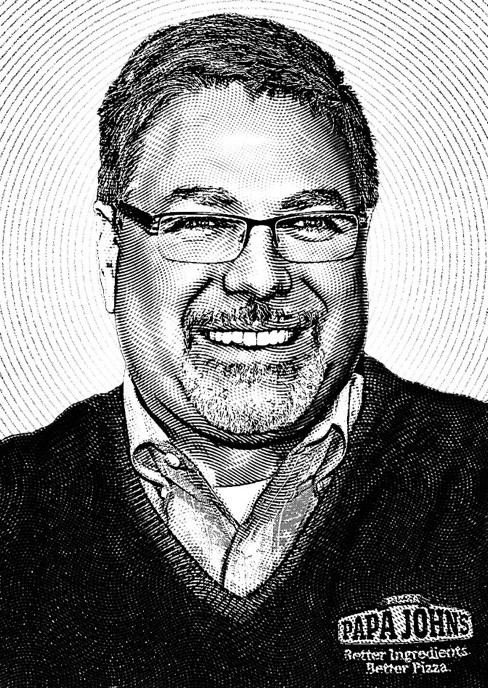 What are the key issues facing a CIO in the quick service industry today?
The big challenge for most CIOs is not to just enable technology, but rather utilize technology to navigate in front of the curve. As hockey great Wayne Gretzky once said, "A good hockey player plays where the puck is going to be". Similarly, a CIO has to be a thought leader that assists not just in planning, but in enabling the business to go where it needs to be.
What new technologies or emerging trends do you see as impacting your industry in the future?
Two come to mind. First is the proliferation of mobile devices and the customer's utter attachment to this technology. The point of interface with the customer is their device and we don't own it, which represents a massive challenge for any restaurant business. A second is the notion of the Internet of Things, such as voice interface portals, Google Home, and Amazon Echo. Voice ordering may one day replace any and all screens, which would also change payment and authentication requirements as well.

How do you expect the CIO role to evolve/change in the next several years?
In some companies, the CMO is the Chief Digital Officer (CDO), but many CIOs are evolving to own this function as well. The importance of collaboration between digital technologies, marketing technologies, and traditional IT is huge. The CIO has to blend both online and digital with traditional points of technologies and, again, the customer's mobile device.
Share your thoughts on the availability of IT talent in the current marketplace. What strategies do you employ to stay ahead of the game?
You have to make your own talent pool and grow your talent versus only hunting for talent. Sometimes you are fortunate and find talent externally, but one has to make internal skill development and competency identification a part of the team's overall talent strategy. At Papa John's, we run monthly "hackathons", with our IT team members.
One theme may be to show me something cool with our data or taking a stab at solving a real business problem. Then the teams are asked to present working prototypes of their ideas. Sometimes they are duds and sometimes there are great concepts that uncork the team's creativity. Third, we fund local programs for college kids who may, for example, want to learn how to code, some of who may be hired by Papa John's upon graduation. Finally, we also emphasize collaboration in getting our IT folks involved in the overall recruiting process.
What advice would you give to someone who aspires to be a CIO?
First and foremost, recognize that today's world is not just about technology, but in being a trusted adviser to senior management. For example, you have to fully understand the operation you are trying to support and get involved in cross-functional activities before preaching from the technology side.
Most businesses will value you even more if you have practical observational skills across all functions, including operational, legal, and supply-chain processes.
To what extent is innovation important in your current role?
It's highly important! What's different is the nature of customer engagement, and how to generate buzz with our customers. The majority of Papa John's sales come from digital platforms. But now if you take that innovation further, it's moving upstream into the customer choice model.
It's not just about ways to order, but looking at the right partnerships and channels that you may not be considering today.
You've been in your current role at PJI for only a few months. What has been keeping you busy to date?
It's been heavy assessment and understanding things like supplier negotiations, filling in some key roles, and laying out a strategy that answers where we are, then building a transition, architecture, and investment plan to move to where we want to be.
What initiatives might you tackle over the next 12 months?
We are building a cohesive customer-centric strategy around insights, experiences, and segments. We will build up customer insights to get a better read on behaviors, such as advertising and promo effectiveness, and then wrap analytics around that.
Second, we are analyzing customer experiences and how they can be improved. For example, some large-scale orders may need different-cut slices for birthday parties, school fund raisers, team sports; there is also increasing requests for special orders.
The segmentation aspect focuses on serving customers and meeting them at their point of need. For example, a customer ordering a pay-per-view movie on a streaming service, could have Papa John's as a stored favorite, and trigger a pie order that would be at the customer's home five minutes before the movie starts. With the right amount of such partnering, we could dramatically change the customer engagement paradigm.
How do you see Papa John's being different in two years, and how do you see yourself shaping that change?
We are going to take the end-to-end process and envelop it around the customer relationship and offer ways to save time and raise the value proposition. It's about taking the order where you are, keeping you updated wherever you are, however you prefer on whatever device and channel you desire.
What personal traits and attributes are essential for today's CIO vs, say, the 20th Century?
Historically, those traits were tenacity and stamina, but I would say being able to be adaptive and willing to change. What's changed forever is that CIOs have to be flexible, nimble, agile, and ready to pivot. With mainframe and client-server, you could take your time, but now you could have misses opportunities in less than 90 days.
What are your thoughts on the notion of disruptive technologies and how has and will it impact the restaurant industry?
The pizza business appears simple, but is deceptively complex because it involves many processes with mass customization. Aggregators like Grubhub and JustEat have been huge disruptors. Taking disruption further, think of what will likely happen when autonomous vehicles come into play for an industry that is so reliant on part-time workers with their own vehicles. What does that do to the labor pool?
There are now 70-plus companies working on autonomous vehicles. One day, Papa John's may even have its own fleet. These are the types of things that keep me worried and excited at the same time.
Who have been your biggest influences, and why?
Professionally, I'd have to say three authors. Peter Senge, whose 5th Discipline model centers on systems thinking. Rather than focusing solely on individuals within an organization, the text looks at a larger number of interactions within and in between systems as a whole. The second is Clay Christensen, who penned the Innovator's Dilemma, which fosters lateral thinking through disruptive innovation. And finally, Eli Goldratt, whose seminal 1984 book called The Goal outlines his Theory of Constraints, a framework for helping organizations to determine: what to change, how to measure the impact of change, and how to effectively cause the change to happen.
Personally, I would have to say my father, who is 80 years young and a retired school principal. He used to bring things home from school that were broke, put the parts in a box, and I would take a stab at putting them back together. I'll never forget the time he brought home a broken TRS-80 computer. It is how I learned to reverse engineer. My dad definitely fostered my self-motivation at an early age.
What tools/apps do you employ to stay productive?
I have never succumbed to keeping everything digital, and have made use of a leather moleskin daily journal in which important communications and to-dos are documented. It's a habit that I've used religiously for the past 30 years, and one that I inherited from my father.
How do you decompress from the challenges of being a CIO? What do you do for fun?
I consider myself an avid outdoorsman, who loves to hike. My 13 year old son is a star scout, so he keeps me quite busy. And I am always on my Kindle and read at least a few books a week.
What advice do you wish you would have followed when you first entered the workforce?
I would say to attach my passion to my job and not the reverse. I've always been using technology to solve problems, but sometimes the duties and responsibilities don't always align with your passions and capabilities. That's important.
If you weren't doing the job that you have today, what would be your dream job?
To be honest, I think I found it. I'm having a great time here, and it's the perfect combination of technology leadership with blasts of innovation and digitalization. And I'm helping shape strategy that will not take a long time to measure.
What's cool about the restaurant business is that you almost know immediately if something is going to work.