Job titles are both interesting and important for organizations and executives who operate in the world of technology leadership. At both the hiring and operational level, choosing which words and phrases define a position's functions is a vital step in setting expectations. However, as important as titles are, it's equally vital to focus on day-to-day implementation and execution of responsibilities.
Regardless of whether a leader carries the title of CIO, CTO, or CISO, the initiatives and goals that these individuals oversee carry the greatest importance to their organizations.
In our conversations with industry leaders for the National CIO Review, we often discuss job responsibilities and future goals. One theme that we have seen across our interviews is that having a diverse skill set is increasingly vital for success. Technology leaders are tasked with ever-growing and shifting job responsibilities, and being able to carry out as many different tasks as possible is an essential skill.
We have seen the importance of having a broad skill set at the highest operational levels for technology executives, at the hiring level as these leaders fill their teams, and at the project level for both day-to-day and transformational initiatives. In our discussions, we always ask CIOs and CTOs how they define their role. Their answers show us how important diverse skills are.
These leaders are increasingly looking for multifaceted technologists at the hiring level, which has important ramifications for education as well. Finally, for both day-to-day and innovative projects, individuals who have the broadest possible set of skills are invaluable for success.
Job Titles and Expectations
The ways that influential technology leaders define their roles show the importance of diverse skills. "I would say my role is a hybrid one," Karen Bird, CIO for Hooters, told us, continuing, "I think my role is a combination of information and digital technology, plus the responsibility to act as a business leader." Bird's analysis underscores prevailing trends in technology leadership: CIOs and CTOs are expected to understand many different parts of business operations. Raw technical skill is no longer enough for a C-level role.
Some influential executives try to see past their job titles. Phil Crawford, former CTO for Godiva, told us, "I would consider myself a CTO and CDO (Digital Officer) hybrid. I think that the nomenclature of titles too often gets in the way of the task at hand," continuing, "To stay relevant, I like to say that all leaders in this space should be a combination of technologist and digital chemist." Crawford's words are an important reminder not to value a job title over the real-world experiences and responsibilities that accompany it.
Titles are important, but the imperative to pursue transformational goals should always take precedence in leaders' minds.
Regardless of whether they called themselves CIOs, CTOs, or any other position in technology leadership, the individuals we spoke to all underscored the importance of a diverse skill set.
There is considerable overlap between the CIO and CTO roles, and both positions demand the ability to see and work across company functions. "My goal is to be a technology partner first," Dennis Yang, of the Motion Picture Association of America, told us, "and help find the most cost-effective solution that meets our requirements and timelines." As Yang demonstrates, the best leaders work constantly to improve all aspects of company operations.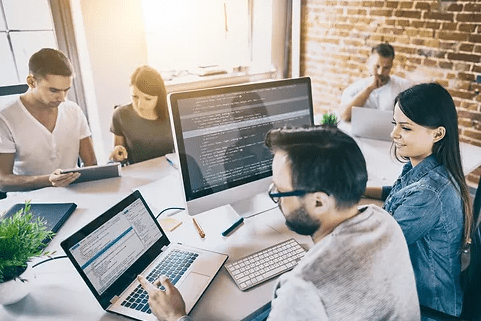 New Hires
If technology leaders must increasingly handle many different responsibilities, the same is doubly true for their employees. IT teams long ago moved away from purely back-office functions, as the leaders we speak to have noted, but the ability to understand many different applications within technology is a vital skill as well. Regardless of the specific abilities at stake, technologists at any level who can demonstrate a wide spectrum of competence set themselves up for lasting professional success.
At the educational level, technologists who prepare for careers by taking a wide variety of classes and developing diverse skills can help themselves stand out to employers. In an article for the Enterprisers Project, Stephanie Overby went over educational requirements and ways that the workforce differs from what is often taught at colleges. She wrote, "Specifically, corporate technology leaders bemoan the lack of practical skills in critical areas from cloud computing and agile processes to emerging capabilities in artificial intelligence and data science." By developing as many skills as possible while still students, aspiring technologists can make themselves impossible to ignore upon graduation.
Once IT professionals begin their careers, the ability to work in many different functions will continue to set them apart from their peers. In practice, there are many different opportunities to allow these skills to shine.
When we spoke with Calvin Rhodes, CIO for the state of Georgia, he went over a variety of objectives. From rural internet access to the Georgia Cyber Center, Rhodes gave us many different examples of high-profile technology initiatives. Whether for a government office or private corporation, the ability to work on many different projects helps team members prove their value.
Projects of Different Sizes
As technology executives plan and implement projects, the importance of diverse skills continues to stand out. For the most important, transformational projects – initiatives that can change the trajectory of an entire organization – it is vital that leaders assign the right employees to each function. We have seen many different examples of innovation and change in our interviews, and the most exciting projects demand strong leadership and skilled execution from individual team members.
One way to see the importance of diverse skill sets in IT teams is through an analysis of single-purpose jobs that are fading out of the workplace. In many cases, some narrowly-focused technology jobs have given way to roles with broader responsibilities.
People whose only skill is writing lines of code, for example, may see their jobs in danger. Although the value of technical skills remains high, those who diversify their skills have better employment prospects.
We have seen many technology leaders argue for the importance of business knowledge and skills, and many of these qualifications apply to their teams as well. Leaders who hope to hire the best personnel must look for diverse skill sets, and applying a wide variety of abilities to different project teams helps facilitate the best outcomes. Through hiring decisions, resource allocation and strong leadership, technology executives can leverage their employees' talent for optimal business outcomes.
Shifting Expectations
The roles of technology leaders are often in flux, changing to meet shifting business demands and organizational goals. CIOs and CTOs are now business leaders as well as technologists, individuals who must be able to understand and interpret financial realities in addition to technical ones. While IT knowledge is still critical for success in this field, a narrow set of skills may mean a limited career.
In addition to the technology executives who hold the role of CIO or CTO, we have seen that diverse skill sets are necessary for team success. For current leaders, that means making hiring decisions and allocating resources with this principle in mind.
Aspiring technology leaders can best prepare themselves for success at the educational level – both by the classes they take and the programs they pursue – and it falls to existing leaders to accurately evaluate these individuals when staffing out teams.
If recent examples have shown anything, it is that the best technology leaders understand what makes their work stand out. Whether they go by the title of CIO, CTO or something in between, these individuals have a deep understanding of their businesses and know how to make the best hiring and planning decisions. The future is bright for these leaders.