Regardless of your opinion on the subject, an increasing number of companies are mandating or encouraging their employees to return to on-site work. A recent survey involving 1,500 HR professionals identifies collaboration and the preservation of company culture as the two main factors driving this shift.
Companies initiating policies to bring employees back to the office can find encouragement in the fact that despite initial reluctance, the majority of employees find the transition positive. Research by SHRM in June shows that 71 percent of those returning to an office environment report increased job satisfaction, and approximately three-quarters believe they are more efficient and productive.
Why it matters: The debate on returning to the office has given rise to a multitude of opinions, reflecting the diverse preferences and wants of employees. However, for company leaders, the decision extends beyond individual viewpoints. Leaders must navigate these varying perspectives with a vision that aligns with the organization's goals and ensures its success.
49 percent of managers indicate that their hybrid workforce faces challenges such as loneliness and other mental health issues, which they believe can be more successfully addressed in a traditional office setting.
With about three-quarters of employees believing they are more efficient and productive in an office environment, companies could see a tangible improvement in work output. More productive employees can contribute to faster project completion, better quality work, and increased profits.
Leaders, employees, and researchers continue to explore, adapt, and argue their perspectives, ensuring that this debate will remain a dynamic and prominent aspect of the modern work environment for the foreseeable future.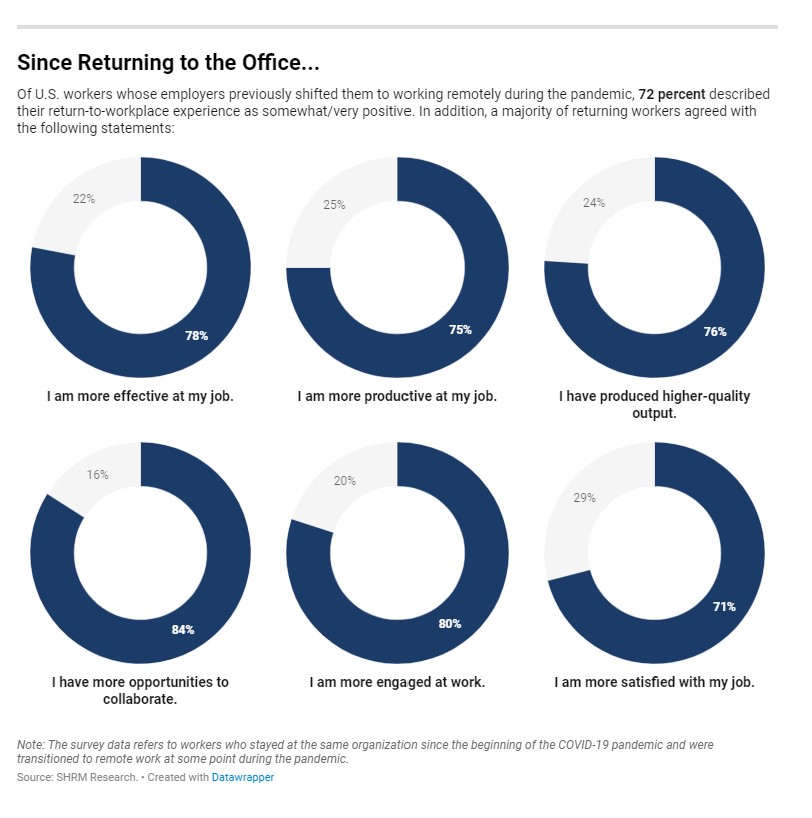 Go Deeper —> The Great Compromise: Return-to-Office Policies Are Evolving – SHRM