Now more than ever, there is a need to prepare for the ever-looming threat of cyber attacks. Cybercriminals today aim to take over your organization's network, hack into your bank accounts, and potentially steal hundreds of thousands of dollars. Companies and organizations, regardless of size and type, are all at risk.
As leading technology officials, CIOs/CTOs are often tasked with equipping employees with the information they need to protect themselves and their company's assets from loss or harm.
The clear path to accomplish this is the implementation of Security Awareness Training (SAT), and something to consider in particular, is the platform you choose. When choosing an SAT platform the primary things to consider are your organization's level of risk and what those risks specifically are.
In March 2021, The National CIO Review polled the CIO Professional Network of top technology leaders on the SAT system currently in use within their company.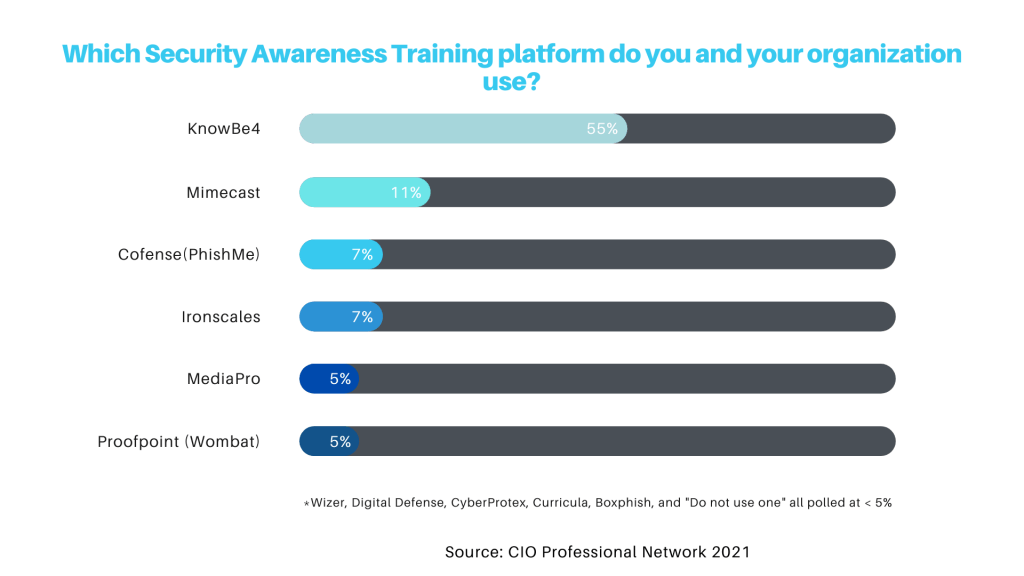 The polling results indicated a clear industry-preferred platform, with 55% of CIO Network Members using KnowBe4 as their primary SAT system.
Other notable platforms include Mimecast and Cofense (PhishMe), both polling at 11% and 7% respectively. The market share has not been fully captured, with slight variation across several other various platforms such as MediaPro and Proofpoint (Wombat).
Over 95% of CIO Network Members polled responded that they currently use a Security Awareness Training platform. This data suggests that it is an industry standard to have at least some type of SAT program in place.
"You can't offer lackluster training for 30 minutes once a year and say it doesn't work, Why would you expect it to work? You need foundational training, but the overall training program needs to be one of reinforcement. You need to look at it as an overall program, not an event."

Steve Conrad, CIO of Media Pro
Implementing the right Security Awareness Program for your company or organization is vital in protecting the best interests of all involved. For CIOs and CTOs, this can be a pivotal point in ensuring your future as an effective technology leader.