It's no secret that CIOs and their technology teams are integral players in achieving their company's strategic goals and objectives. With the seat at the big table comes broader responsibility touching nearly every aspect of the business, and the pressure is on for technology executives to perform.
In a poll conducted by the CIO Professional Network, members identified the top 3 – 5 focus areas that they will use to assess the performance of their IT organization.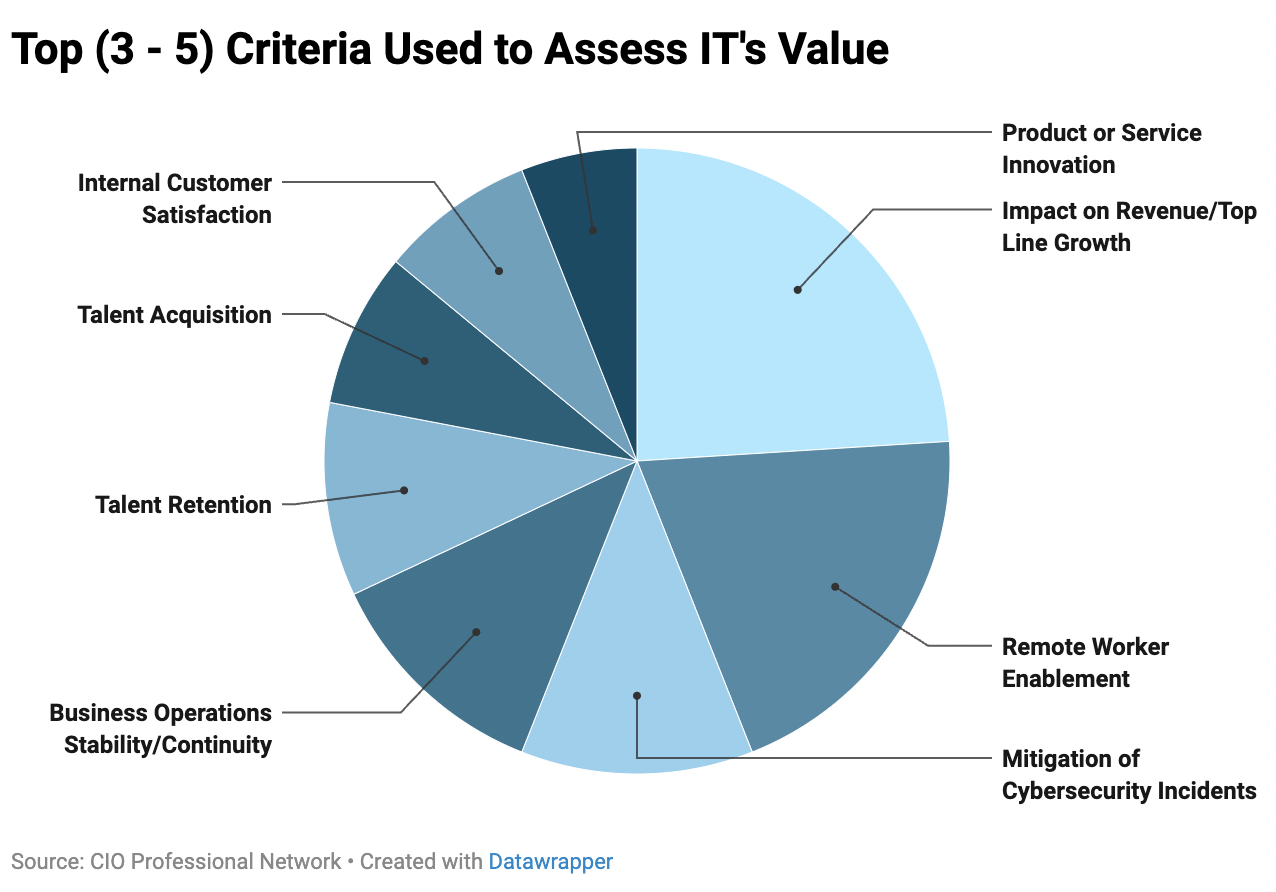 Across industries, CIOs report that delivering on revenue and growth initiatives will be the primary indicator of IT value throughout the remainder of 2022 and the coming year. With economic conditions fluctuating weekly, sometimes daily, over the past several months, this is no surprise.
However, the threat of a recession is not the only thing high on the minds of technology leaders.
Two years out from the pandemic, remote work is here to stay, and organizations are finding ways to turn a temporary solution into a permanent one. This goal falls heavily on the shoulders of CIOs, and remote worker enablement is second only to revenue enablement when assessing IT value.
IT executives are facing the same struggle as other leaders when onboarding and integrating remote workers, but they have the additional burden of building a forward-looking infrastructure to support all remote workers in the organization.
That's not all
While revenue impact and remote work are some of the most important, they are by no means the only value measures. A recent PwC study reports that 40% of executives say cyber threats pose the biggest risks to their organizations. So, it's no surprise that cybersecurity is a concern across the C-suite and CIOs are keenly aware of this as CIOs identified mitigation of cybersecurity incidents as a top 3 KPI for the near term.
Across industries and organizations, these value measures are consistent with the challenges facing companies across the country, and technology executives are feeling the pressure to deliver.