Heraclitus, a Greek philosopher once wrote "There is nothing permanent except change".
Not a business leader among us could have predicted the rapid acceleration of events and the associated impact of the pandemic to our business models, team structure, and overall approach to work.
Technology leaders were once again thrust into the limelight as companies stress-tested their existing work-from-home (WFH) capabilities or rapidly accelerated implementation where none previously existed.
Some believe that the traditional office workspace will never be the same or at a minimum forever materially altered. Others may still hold fast to the tradition of in-person collaboration. Many align somewhere between those two spectrums.
In July 2020, The National CIO Review polled our 2000+ member CIO Professional Network to obtain their perspective on expected reductions in their in-office corporate footprint.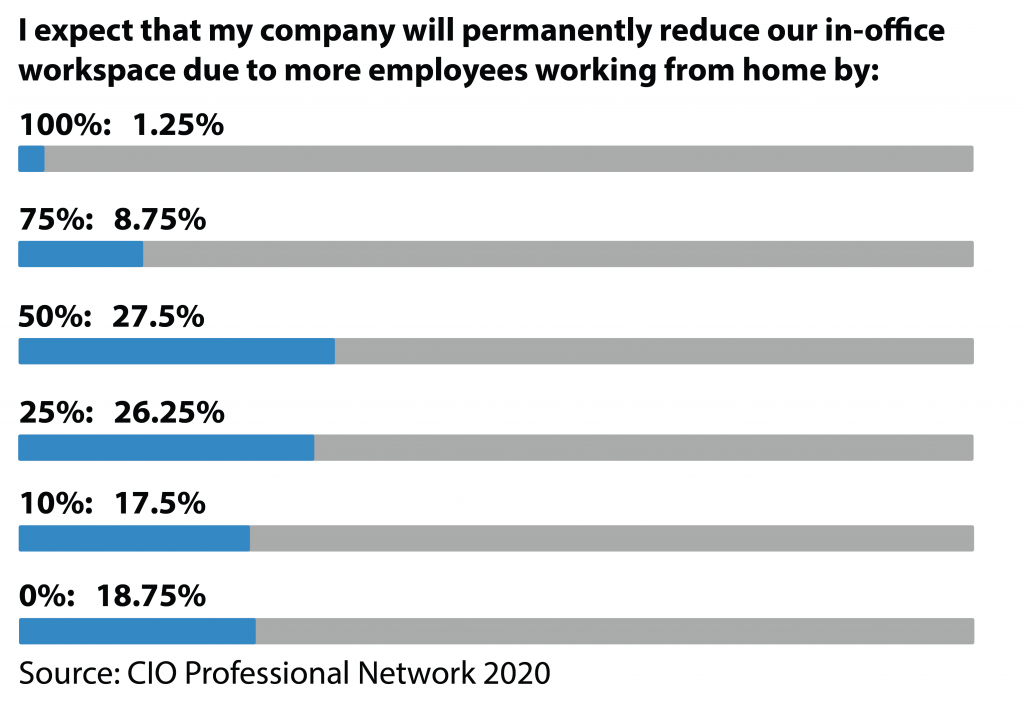 It is hard to argue with the data and the belief that we are in the midst of a shrinking office continuum of some sort. Over 81% of technology leaders are reporting some level of impact to their existing office structure and expect that this realignment of desks and people to become permanent. In fact, over 37% report an expected reduction of office space by more than fifty-percent with 9% projecting a pruning of over seventy-five percent.
"I predict that when all of this is said and done, the commercial real estate market will see the largest long term impact. Office space is a huge expense and management teams will be forced to address the fact that they were able to efficiently work remotely."

Corey Thompson, CTO for BigR.io
"There will definitely be a pre-covid/post-covid demarcation on office space and commercial real estate. People wise, most seem to be just as, if not more productive."

Vic Berggren, CIO for Global Convergence
But as one of my favorite ESPN announcers, Lee Corso, would playfully offer when redirecting the conversation – "Not so fast, my friend!"
With over 18% of technology leaders reporting no expected impact to their current office footprint, 36% predicting a minimal impact, and 63% reporting less than a twenty-five percent expected reduction, one could assume that while we have found new ways to work, a majority of companies remain committed at least in the near term to the traditional brick and mortar office structure.
"On the one hand, heads down workers are usually more productive, real estate costs can go down, and commute times are drastically reduced. These are all good things. On the other hand, we lose the social dynamic, the ability to brainstorm over take out, the ability to debate constructively, and in some cases the spontaneous inspirations that come from bumping into someone at the coffee machine."

Thomas McNeil, CIO for Medical Innovation Collaborative
"While we don't know what the new normal will be, we will leverage the knowledge and perspective we've gained over the last 4 months to our advantage over the ultra long-term."

Brandon Pfleckl, CIO for PWCSA
There will no doubt be an impact to our traditional approach to office space as most technology leaders reported many benefits for their teams and organizations during this forced experiment. However as a number of companies are working to reduce their in-office footprint and others are cautiously evaluating, only time will tell how recent events will modify our historical commitment to a predominant in-office workforce.
---
The CIO Professional Network is an active, 2000+ member network where technology leaders share best practices and insight on common issues. The network provides a forum for ongoing and mutually beneficial interactions. Vendor-free membership is restricted to the top IT, security or digital professional for their respective organization. To request membership navigate to the CIO Professional Network.