As many have navigated the storms of the previous year with varying degrees of success or misfortune, everyone is looking to a new year with a fresh slate and the promise of new opportunity.
While our challenges are far from over and as we transition with new government leaders, vaccine roll-outs, remote workforce adjustments, and potential permanent shifts in our traditional business models, there is hope that we are all rounding the final turn in a desire to finish this race that was thrust upon us.
In January 2021, The National CIO Review polled our 2000+ member CIO Professional Network of top technology leaders on their expectations for revenue growth and associated hiring plans for the first six months of the new year.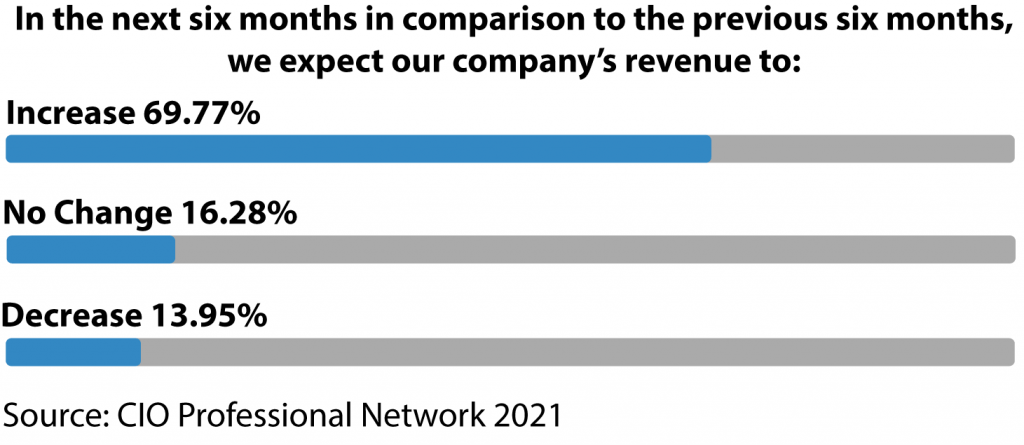 ---
With almost 70% of technology leaders reporting a projection for increased revenue in the first half of 2021, the majority of organizations are communicating strong expectations for the new year. Given that our similar poll on this topic reported in August 2020 a positive outlook of less than 48%, this represents a significant increase of optimism among this industry leading CIOs and CTOs.
I'm cautiously optimistic that the economy in general will get better over the next 6 months as the market outlook is improved and tightened spending loosens up; all contingent of course on the handling of pandemic inhibitors. A smaller part of this will be experienced in the next 6 months, but conditions will still noticeably improve toward a complete recovery by the end of 2021.

Keith Worfolk, Chief Technology Officer for CatylystOne
However, it is important to note that nearly 30% of tech execs are expecting company revenue to either remain flat (16%) to the last half of the previous year or decrease (14%). Simply put, we are not quite out of the woods in some organizations or industries and there is more navigation yet to do.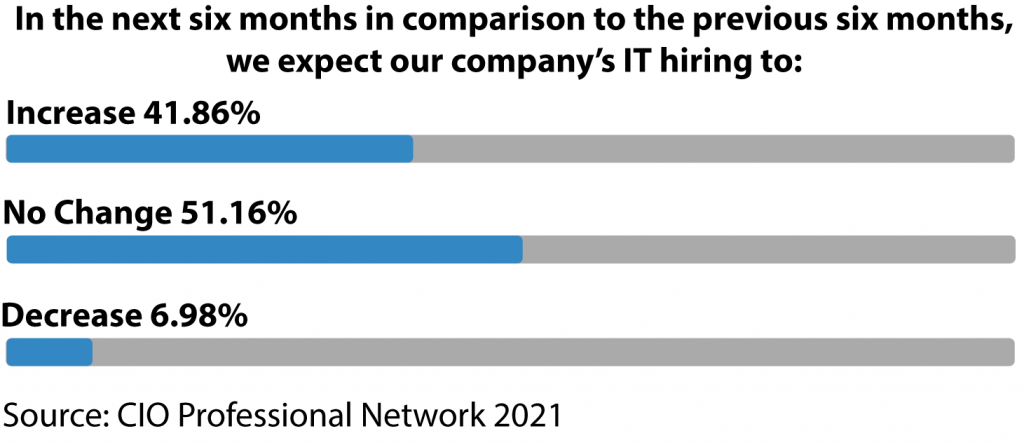 And yet with a majority reporting greater expectations for the new year and with many still scrambling to right the ship, technology leaders and their teams will be called upon to do more with existing resources while many continue to acquire new talent.
In fact, nearly 42% of technology leaders report increased hiring over the next six months. When compared to the August 2020 survey where near 47% reported a need for additional talent, one could argue that while these numbers are flat, the war for talent will continue as CIOs, CTOs, and the like enable and drive business growth with new initiatives and pivots for 2021.
I see a continued opportunity to play a core role in enabling and even driving business growth as IT leaders if we demonstrate our ability to be agile, deliver value quickly while continuing to take the long view.

Christopher Davis, Chief Information for The Tile Shop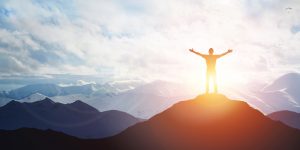 Perhaps we are starting to see the sun emerging through the clouds.