Starting the year with grand plans in place for 2020, technology leaders and their organizations were thrown a curveball when the pandemic hit and went to an 0-2 count as a result of the accompanying economic crisis. CIOs/CTOs/CISOs found themselves quickly reshaping their IT priorities in order to move the business forward in these unprecedented times.
In August 2020, The National CIO Review polled our 2000+ member CIO Professional Network on the impact that the current crisis has had on their organization and the resultant change in the top priorities of their technology organization.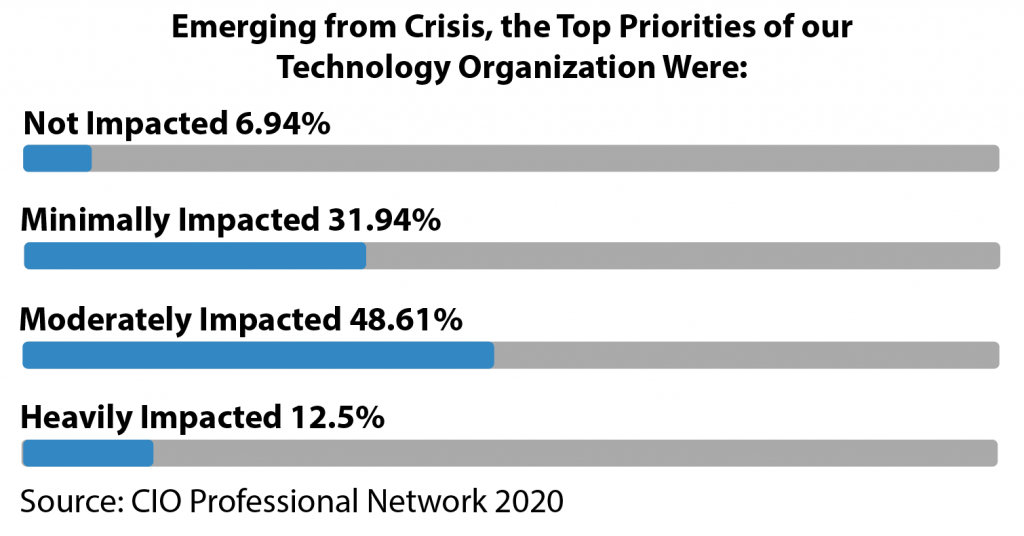 Over 93% of technology leaders report that their organizations were in fact impacted and priorities were shifted as a result of the current pandemic. Not surprising in that it is readily accepted that this current crisis changed the overall business climate in a way not seen since the 2008 economic downturn. With over 12% of technology leaders reporting a massive shift in their top priorities, some have been affected more than others.
There are a fortuitous few in slightly less than 7% of organizations offering that their priorities have and remain consistent with their pre-pandemic plans and less than 32% shared that their key objectives were only minimally impacted.
So where does that take us?
What are technology leaders reporting as their top priorities for the remainder of 2020 and 2021?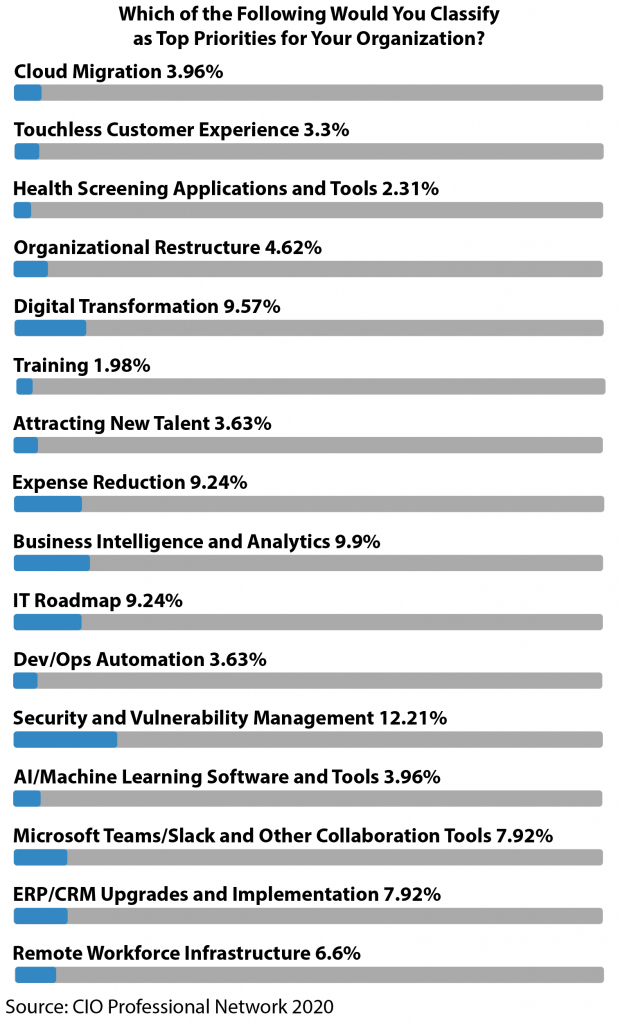 Security and protecting the enterprise is by far the top item on the mind of survey respondents. With many technology leaders managing a larger distributed workforce, security concerns have moved quickly to the top of the list. And with that remote workforce, collaboration tools, cloud migration, and further investment in systems and infrastructure is not far behind.
Safety and employee health is naturally a topic that is key toward a return to normal as requirements for health screening tools and monitoring are on the rise.
Restructuring the workforce, organizational planning, training, expense reduction and attracting new talent for a new economy is a major priority.
AI, Digital Transformation, IT Roadmap, DevOps Automation, and BI – all mainstays at the start of the year remain high on the list.
It has been said that now is time to shift from surviving to thriving and technology leaders have a front-seat on the bus for leading through these challenging times. We are being asked to do more, often with less resource, in the midst of an ever changing dynamic. From where we sit – we know our members are ready for the challenge.